An Experiential hands-on event where you easily dissolve blocks to wealth fast!
Electrifying Guest Presenters to help you quickly install the Wealth Mindset!
Practical tools for erasing old stories and creating new ones that help you become a Money Magnet!
Discover how to really apply the Law of Attraction to money – or anything else!
How to "Zero Out" lack and limitation!
Learn the Truth about Ho'oponopono and how it can help you experience the Divinity of Wealth!
Leading-Edge Methods for Becoming the New You!
Actual Experience of Miracles Coaching®!
Live demonstration of The Secret Mirror mind technology – See change before your eyes!
Discover your core passion!
Realize the power of the right question!
Previous experience not necessary!
An inside-out approach to attracting money!
Move out of Victimhood and into Awakening!
Free gifts! Surprises!
Instant Access to $12,000 in eye-opening videos!
Networking with new people!
Masterminding for Success!
You will get a chance to meet with myself and my hand-picked famous presenters!
And more!
The featured keynote speakers of the weekend were...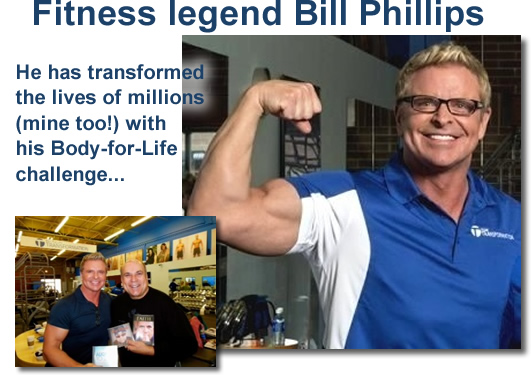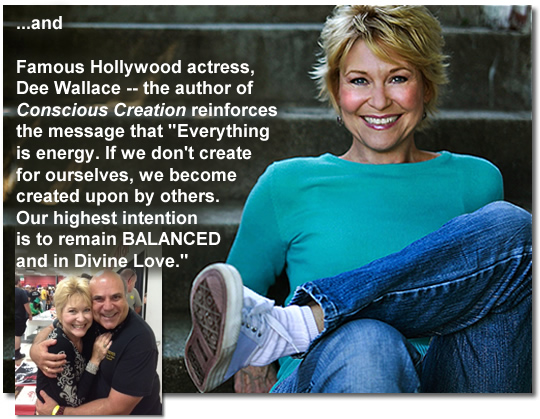 Keep reading for more information about each Featured Speaker...
There were only 200 seats!

ORDER right now and get instant access to "The Attract Money Now Live" event videos!
From the E-Desk of Dr. Joe Vitale
December 29, 2014
Dear Friend,
It's time for you to leave money worries behind.
It's time for you to stop worrying about jobs or the economy.
It's time for you to stop being Dependant on others.
It's time for you to finally release old blocks to success.
It's time for you to awaken to your natural abundance.
I'm Dr. Joe Vitale and I'm inviting you to be one of only 200 the lucky people to experience a live event where you can finally break free once and for all.
You don't need to know about me to know this is for you. You can feel it. I was broke and I'm now well off. I'm spending my time helping others.
| | | |
| --- | --- | --- |
| | | |
| I wrote the eBook Attract Money Now – and I give it away. | I wrote the eBook The Miracles Manual – and I give it away. | I compiled the eBook Operation YES – and I give it away. |
My intent is to help you with the principles and methods that have helped me and others.
I've decided to deliver a once in a lifetime live event on the subject – and make it one that actually helps you transform into a wealth magnet!
And as already mentioned, I'll have guest presenters
help me – people like the legendary actress Dee Wallace ("E.T.") who is a radiant healer of love.
As a much sought after public speaker, Dee has spoken at numerous national and international venues including Energetic Healing seminars throughout England; and her own healing and teaching seminars throughout the United States.

Dee has appeared on every major news and talk show and has been featured on "E! True Hollywood Stories," "Oprah," and "The O'Reilly Factor." On a weekly basis, Dee conducts numerous private healing sessions at her office in Woodland Hills, California.

As an author, Dee has written a book devoted to the art of self-healing. She conducts monthly workshops to introduce people to the healing techniques outlined in her book, Conscious Creation.
Featured Presenter - Bill Phillips!

New York Times best-selling author, magazine publisher, documentary filmmaker, entrepreneur, inventor, self-made multimillionaire, and motivator, Bill Phillips has thus far proved unstoppable.

Described recently by Outside magazine as "the most successful fitness author of all time," over the years, Phillips has served as a "personal trainer" to a who's-who list of Hollywood icons, but what he's most proud of is his work with the Make-A-Wish Foundation® and more recently, his work as an adviser to the United States Department of Health and Human Services on programs to resolve childhood obesity.

www.BillPhillipsNews.com
Mendhi Audlin, Author of What If It All Goes Right?


Mendhi Audlin, aka "The Queen of Positivity," helps you bust through limiting thought patterns and focus your thinking on ideas and possibilities that attract the outcomes you desire. 

Explore the two words that pave the way for new levels of abundance in every area of your life!

http://www.spiritualitytoday.tv
"Overcoming Limiting Beliefs on Money"

Adam has been a long student of Napoleon Hill and believes in the
following quote from Napoleon, "Anything the mind of man can conceive and believe, it can achieve."

Adam has spent the last decade decoding the mysteries of the human mind, working with many of the greats in that field of study. He has coached thousands of people on how to overcome their limiting beliefs.

He is the creator of the Quantum Meditations and the author
of the bestselling book The Secrets of As a Man Thinketh.

Adam has been referred to as the "block remover" for his ability to identify and eliminate subconscious blocks. In 2011, Adam won the coach of the year
at Achieve Today -- a world leader in one on one coaching.

Adam also runs a personal development blog at www.adamsecrets.com.
"Pain into Profit"

Lori Anderson is a dynamic and compassionate inspirational coach, speaker and writer. She is the author of the new breakthrough book, Divorce with Grace. She learned to turn her mess into her message and her pain into profit.

Lori will teach you how to have grace with yourself, grace with your ex, grace with the situation. She guides people through the transition of divorce and facilitates them in creating an amazing new beginning for their life. Assimilation of these Graces through the five step G.R.A.C.E. process will empower participants to transcend any remnants of victimhood or bitterness and embrace their divorce process as a "Fantastic Evolutionary Experience."

She lives in Austin, TX with her two amazing boys.
"Harmonize with Wealth"

"Master of the Mastermind," Chuck Pennington will show you how to harmonize with the Universal Mind and unleash your wealth creation potential.

He is a master of the Mastermind and will reveal to you a way to create the most powerful hour of your week.

Have you ever gone to a seminar, gotten home, and a week or two later that "seminar buzz" wears off and you're right back where you were?

Chuck will show you how to maintain that buzz and to make sure that not only your thoughts, but your actions stay in harmony with the wealth you desire.

http://www.HarmonicThought.com/

...and oh yeah, he's also my systems' manager and webmaster. Imagine being able to pick his brain about that all weekend!
"Remembering Your Wealth"

Daniel Barrett is the founder and CEO of Rubicon Artist Development, Austin's leading studio for developing musical talent from the inside out.

Daniel and Joe Vitale co-authored the forthcoming book, "The Remembering Process" (Hay House).

Daniel's goal is to create such wealth consciousness among musicians that parents everywhere will one day say, "Why don't you do something sensible like be a doctor, lawyer, or musician!"
"Attracting for Others"

A world-renowned Karmic Healing music producer, Mathew, has co-produced several audio products with me including our bestselling healing audio "Aligning to Zero" and its sequel "At Zero."

Mathew will be discussing the five-step formula from his globally recognized e-book Attracting for Others.

These five proven steps will give you a never before revealed secret power to the Law of Attraction.

You will learn how to change and align your personal vibrational frequency so that you will easily attract the right people, things and experiences into your life.

As a special treat, you're also going to get a taste of Mathew's amazing talents, as I've asked him to play for you while we enjoy dining together over the weekend!
Raising Entrepreneurs

Scott York is an entrepreneur, fitness professional and the father of 4 young boys. Three years ago, Scott taught his boys how to make their own money in a very unique niche.

You've got to hear how his boys earn money from 3 different streams of income, using nothing but a video camera, a computer and a little imagination!
"Recommending What You Love"

Connie Ragen Green is a former classroom teacher and real estate appraiser who left it all behind to come online in 2006. She is now a bestselling author of nine books and an international speaker, teaching people on six continents how to
become successful online entrepreneurs.

Connie will share her secrets on how to get started with affiliate marketing, what she refers to as 'recommending what you love.' Anyone can do this and she will provide you with a 10-step Blueprint to get your online business up and running in the next 10 days.

How does an "unknown" get chosen to share the stage with a world-famous actress, a fitness legend, various esteemed experts, and Mr. Fire himself?

By accepting, embracing, and loving his limiting beliefs until he becomes the raindrop merging with the ocean.


Bob Wakitsch was born blessed with a divine gift, which he resisted, rejected and ultimately banished from his life. Forty years later, it was reawakened by an enlightened Sufi Master. Yet, Bob still tried to ignore it and keep it hidden. His son's death in 2011 forced him into a 700 day "dark night of the soul" where he examined, explored, and experimented with his God-given gift.

Finally, he visibly understood what was REALLY happening when people had desires. He can observe the magnificent flow of grace, and detect the walls we erect to unwittingly dilute the results.


At this event, you'll discover "The Mysterious Truth About Limiting Beliefs" and why you must, ironically, "love" them to manifest your dreams. All this and more is explained by the "unknown" guy who can literally SEE the Law of Attraction in operation.

Volunteer for Wealth

Bruce Burns, a.k.a. "The Negotiator," will show you how to "Volunteer for Wealth." He has been creating, developing and sustaining businesses and corporations since 2001. 

He engages his clients through his two-fold technological approach, which includes data and networking technologies, as well as linguistic and behavioral technologies. His radio-quality voice has opened doors in various seminar circuits for the last 30 plus years. 

Recently he's added voice-over work to his resume and spends his off hours volunteering his voice to various online communities. He is a champion of the open source community and is constantly developing strategies to spread the open-source fire into other areas of humanity.
In case you're not completely familiar with me or my work, let me catch you up...

I have been known as "the author of way too many bestselling books to mention here" as I have written over 50 books to date, with no sign of slowing down anytime soon! Some of my bestsellers include The Attractor Factor, Life's Missing Instruction Manual, The Key, Zero Limits and Attract Money Now.

Additionally, I am always writing and publishing new books! Stay tuned!

I've recorded many Nightingale-Conant audio programs, to name a few, "The Awakening Course," "The Missing Secret," "The Secret to Attracting Money," "The Abundance Paradigm" and my latest, "The Ultimate Law of Attraction Library."
I've been in several movies, including the blockbuster "The Secret." I've been on the following TV shows: Larry King Live, Donny Deutsch's "The Big Idea," CNN, CNBC, CBS, ABC, Fox News: "Fox & Friends" and Extra TV.
I've been featured in The New York Times and Newsweek. My latest accomplishment includes being the world's first self-help/singer-songwriter as seen in 2012's Rolling Stone Magazine. To date, I have released 6 albums with more currently in the works. As you can see, creating and taking action is my passion!
I've also created a Miracles Coaching ® program to help people achieve their dreams by understanding the deeper aspects of the law of attraction and the law of right action. I was once homeless but today I am a #1 bestselling author (among other things) who believes in magic and miracles.
For more information my main website is: www.JoeVitale.com
This event is very special to me and I want to make sure that every detail is taken care of. I've chosen an expert on Personal Transformation as your Master of Ceremonies for this very special event.
MICHAEL ABEDIN is the creator, publisher, and editor of Austin All Natural, Austin's homegrown
natural magazine that's featured everyone from Kinky Friedman to Deepak Chopra and even me!


He's been a disc jockey on Austin's first progressive rock radio station, a martial arts instructor and bodyguard, and a holistic practitioner and teacher – and feels no obligation to "Keep Austin Weird" (he helped make it that way).
Now is the time.
Here are some insights to the event...
If you are as ready as I think you are, please ORDER for the "Attract Money Now Live Event!" Home study Course.
You won't pay this:
Cost $795 but early-bird registration is ONLY $595
You don't have to travel here:
Where: Hilton Garden Inn Austin Downtown/Convention Center
500 N Interstate 35, Austin, Texas, 78701, USA
You won't even have to travel back in time to...
When: November 8th through 10th, 2013
...and you don't have to worry that it's SOLD OUT!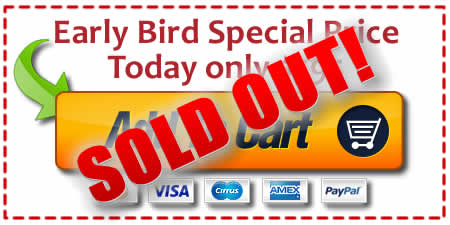 Click here to get access to the Attract Money Now - Live! Home Study Course!
You can get the Attract Money Now LIVE! Home study course right here...right now!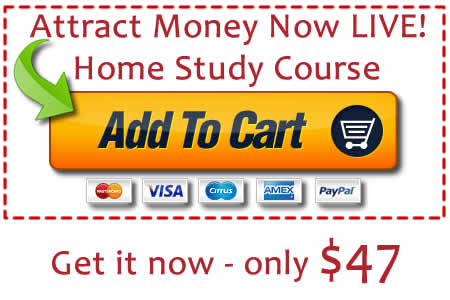 ORDER right now and get instant access to "The Attract Money Now Live" event videos!
This is not another sit and listen weekend – where speakers excite you, overwhelm you, and then leave you hanging.
Instead, this weekend is designed to transform you – just by being in the room!
I'm planning on using new methods – and old reliable ones – to help you release the past and adapt a new future.
A future where money comes to you easily and effortlessly.
A future where your bills are paid and money flows naturally.
A future where you take care of yourself and your family.
A future where you are free.
Imagine it!
This is not a pie in the sky approach. I'm a results guy. I went from homeless to fame and fortune. I've helped countless people with my books and movies and audios. I created a coaching program that truly helps people create miracles.
And now I want to help you.
Just ORDER right now for the "Attract Money Now LIVE Event!"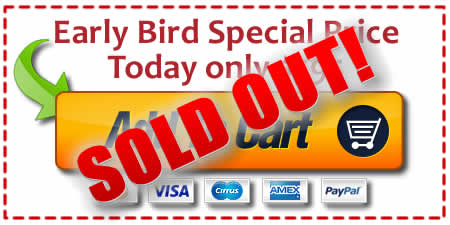 Click here to get access to the Attract Money Now - Live! Home Study Course!
You will get $200 off by doing so today.

Imagine a lively event, with processes that are easy and comfortable, yet life changing and imagine the result of walking out of the event as a NEW person – a wealth magnet!
Skeptical?
Don't believe me?
Look at it this way --
There are numerous ways to earn money.
What's the best way?
Doing what you love and letting it come TO you.
Is it impossible?
Of course not.
You might think it is, but that's the whole issue.
What you are thinking is either attracting money or pushing it away.
And it isn't what you are consciously thinking; it is what you are un-consciously thinking.
Our most powerful beliefs are operating un-consciously – almost invisibly.
You don't even think about them, as they aren't usually in your conscious awareness.
But here's the good news.
This weekend is designed to handle the invisible barriers to success.
Relax. None of this is hard or confronting. We plan to play all weekend, but with the intent of helping you break free.
Just ORDER right here for the "Attract Money Now LIVE Event."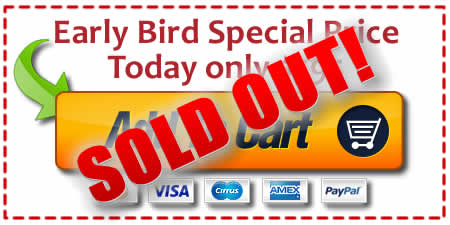 By signing up for the "Attract Money Now Live!" Home Study Course TODAY, you've just received many times the value on your investment! All from the comfort of your own home!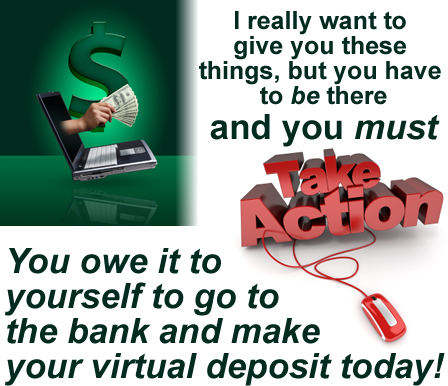 By doing this, you can begin RIGHT NOW to absorb a new mind set about money.
You can sit right where you are, and relax, and watch the videos.
And you can begin doing that TODAY.
All you have to do is ORDER right now --
You know you want to attend.
It's obvious.
You wouldn't still be reading this if you didn't really want to attend.
If your mind is doubting, or skeptical, or bringing up excuses, it may be time for you to get tough with yourself.
It may be time to put your foot down.
You deserve this.
We both know it.
You can't listen to your own mind give you excuses such as "I don't have the money" (The event was only $599 and the video Home Study Course is only $97 when you ORDER today) or "I don't have the time" (The event takes place over a weekend) You can enjoy the course at your own pace in your own home..
A $795 event that will change your life forever – for only $595!?!?!
What about only $47?
Come on!
You can't let your "monkey mind" run your life!
Giving in to mind games will keep you stuck.
Will you continue to struggle, or will you finally break free?
You have to realize that what you have been doing in the past is based on your current beliefs, and those very beliefs got you into your current situation!
It's time to transform.
I'm sorry if I'm blunt, but too many people deceive themselves
out of their own good.
You know a weekend of transformation will be good for you.
You know releasing blocks to success is good for you.
You know doing great things for yourself is good for you.
You know watching "The Attract Money Now" videos will be good for you.
You know amazing guest presenters like the famous actress and healer Dee Wallace is nothing but good for you.
You know all this...and so do many others.
Just when you think you understand how the world works, Joe Vitale comes along and takes you to a whole new place. He's engaging, entertaining, enlightening and - oh boy - does he ever stretch your thinking.

Ian Percy, Reg. Psych. and member of both the US and Canadian Speaker Halls of Fame.
Dear Joe,
I admire you a lot. You are a great person, writer, teacher and marketing genius.

You do things that you like and you follow your beliefs. At the same time you help millions of people to solve their problems and to achieve what they want.
The important thing is that you make huge amounts of money helping other people. So, you do things that you like and you make billions of dollars following your beliefs. It's a fantastic combination!
You have changed my life thanks to the books you wrote (I have read 17 so far) and the seminar you spoke at in Spring 2010, in Warsaw – Poland.
Since then my life is bright, I get what I want about 90% of the time. I love especially two books, which have changed my life completely – The Attractor Factor and Zero Limits.
GOD bless you, Joe.
Love,
Monika K.
Ostrowiec Sw./Poland
Dear Dr. Vitale,

I appreciate and respect your work. I have all of your CDs, read your books, and have seen your movies. I just started re-listening to your CDs -- it feels like I did not hear them before. The things I'm hearing now are like revelations to me ... thank you very much.
I started to do everything you talk about on your CDs and it's WORKING!!!!! Why I haven't done it before, I have no idea... I was just listening to them...
I've been to seminars, listened to CDs, read the books (lots of them); I love reading and I just wanted to express my appreciation to you and for your work.
Nobody, NO ONE - helped me more with my own personal development as you and Karol Truman have. I sincerely thank you.
Keep up the good work. You are a credit to your craft. Thank you.
With my great appreciation,
Marie Horocki
Palm Harbor, FL, USA
My name is Jason and I live in a small town in IL, called New Boston.
I lost the job I had. That is where you have come in. Several years ago a friend of mine, in Phoenix, told me about you. I went out and found your Attract Money Now E-Book. The best thing I have come across to date is ho'oponopono!
Thanks to God for giving me some good intuition, I was able to come across articles and information on ho'oponopono. Then I found out that you also use this method. I have since purchased The Attractor Factor, and I have purchased the book Zero Limits. It is golden stuff.
You have helped me change my thought process as it relates to money!
I now see money as something that everyone can have and that there is plenty of it. I have even started to write things such as THANKS on my checks if I pay a bill. If I pay that bill online, I say THANKS while doing so. I'm also writing a book and I am going to share what I have learned over the past 12 years with others. I'm glad that you do the work that you do!
And it sounded weird when I first said it, but now the phrase "I LOVE YOU" has such a deeper meaning for me.
Thanks!

J. E. Olson of New Boston, IL
http://www.awakenedradio.net/living-the-responsible-life.php
Today is the day for you to prove to yourself that you are ready for success.
Today is the day to take care of yourself – and by extension, your family and friends.
Today is the day.
Make the decision.
Say YES!
Transform your life forever!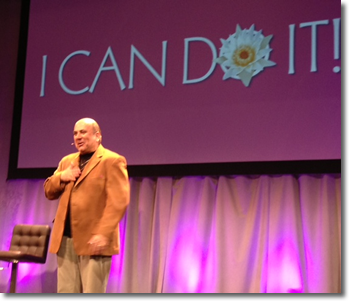 ORDER here for the "Attract Money Now LIVE Event - Home Study Course."
Cost $795 but early-bird registration is ONLY $595
Where: Hilton Garden Inn Austin Downtown/Convention Center
500 N Interstate 35, Austin, Texas, 78701, USA
When: November 8th through 10th, 2013
But you don't have to travel, pay the full event fee, or be bummed out any more because you missed the event!
Now only $47!
You can sign up by paying online via Paypal or via credit card using Paypal's Gateway (note: you do not require a Paypal account in order to complete your credit card transaction).
Listen to this wonderful and inspiring interview with me and one of the speakers at the event, Adam Mortimer. You'll love it!
| | |
| --- | --- |
| Love, | |
Dr. Joe Vitale
www.MrFire.com
Member BBB 2003-
PS - For more information about Miracles Coaching®, please see http://www.MiraclesCoaching.com
Tell a friend and share this great site with others.
Dr. Joe Vitale, a star in the hit movie "The Secret," bestselling author of The Attractor Factor and Zero Limits, television guest star on Larry King Live and CNN, ABC, FOX, etc., is the world's first self-help singer songwriter.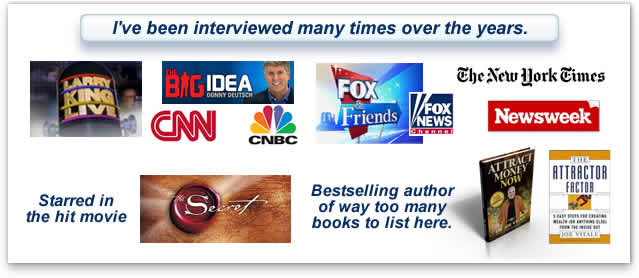 Media and Performance Requests Contact:
Email Joe's booking agent: Caroline@MrFire.com
or call 888-743-2824 opt 3
Services are provided by Acheive Today, Inc., which has been selected by Joe Vitale to provide education and guidance throughout your program.
© Copyright 2000 - Hypnotic Marketing, Inc., (All rights reserved)
Hypnotic Marketing, Inc., P.O. Box 2924 Wimberley, TX 78676-2924 - (888) 743-2824
Legal Disclaimer - Privacy Policy - Terms of Service

Customer Service: The Hypnotic Marketing Customer Care Center.
Give us a call at (888) 743-2824 option 2 or send us an email at Support@MrFire.com